---
---
A Strangely Skewed Wild Card Effect
Effect
Explaining that magicians go through a LOT of playing cards you display a packet of special 'printer cards' - blank on both sides - That you explain can be used to print new cards. Two selections are made from an ordinary pack, let's say the Jack of Hearts and the Ten of Spades. You continue, "...so, if I wanted to make a copy of the Jack of Hearts, all I do is rub it on the printer cards and...", one by one you print three perfect duplicates of the Jack of Hearts! Turning your attention to the selection; you attempt to print a few duplicate Ten of Spades but nothing seems to be happening. It's now that you realize that some of your printer cards are actually out of order. The blanks are turned over to reveal large 'OUT OF ORDER' signs on the back! Undeterred you soldier on and for a finale, proceed to print three duplicate Ten of Spades right on the backs of the Jack of Heart you printed earlier!
From the man who brought you 'Fresh Mint' and 'Snapped' comes 'Out of Order' - a dynamite packet trick that cannot fail to amaze! 'Out of Order' delivers three distinct climaxes, each more impossible than the last and, when the trick is over, every card can be Fully Examined!
'Out of Order' is totally customizable to any presentation you can think of instead of 'Out of Order' the cards might deliver a humorous message or be emblazoned with the name of your corporate client.
The 'Out of Order' DVD will guide you step by step through every detail of the handling and includes a second bonus effect that also makes use of the enclosed gaff cards.
The Packet Trick is Back and there are very few better than Cameron Francis' 'Out of Order'.
100% Examinable, Totally Customizable, Includes Cards, DVD, and Bonus Effect.
Running Time
Approximately 42min
Additional Image(s)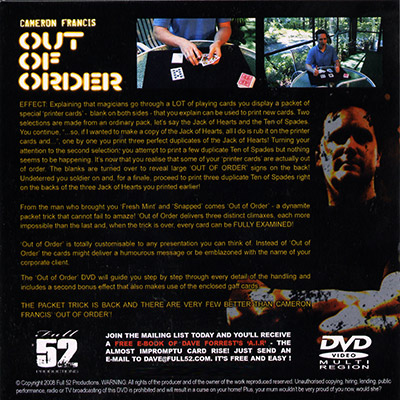 ---